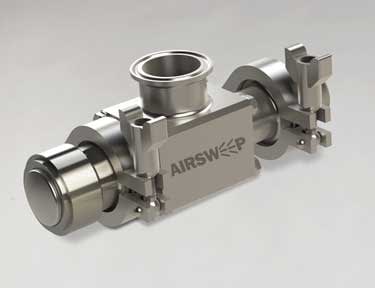 USDA Accepted AirSweep®
Cleans interior surfaces
Eliminates ratholes, bridging & material buildup
Ideal for applications requiring sanitary equipment or frequent cleaning.
Designed and fabricated according to sound sanitary design principles
Flanged connections for quick installation or removal from mounting and process connections
Quick and easy removal/disassembly with simple hand tools
All surfaces resistant to corrosive products and cleaning/sanitizing chemicals
Manufactured from high-grade 316 Stainless Steel for long service life
Energy efficient – uses plant air
AirSweep® standard materials of construction include:
Other materials available upon request.
Watch our AirSweep® system videos
GET YOUR FREE PROPOSAL
Get a detailed AirSweep proposal, engineered specifically for your application.
ASK FOR PROPOSAL